Does Lux Algo enhance your trading experience? In this definitive review, you'll find out how well the Lux Algo trading tool keeps its promise.
I've carefully curated the experiences of several traders using the platform and shared my findings with you.
I'll also compare Lux Algo to its closest alternatives, such as Ultra Algo, and give you my recommendations.
My goal is to help you decide if Lux Algo is worth your money. Alright, let's jump right in.
Overview of Lux Algo
What is LuxAlgo?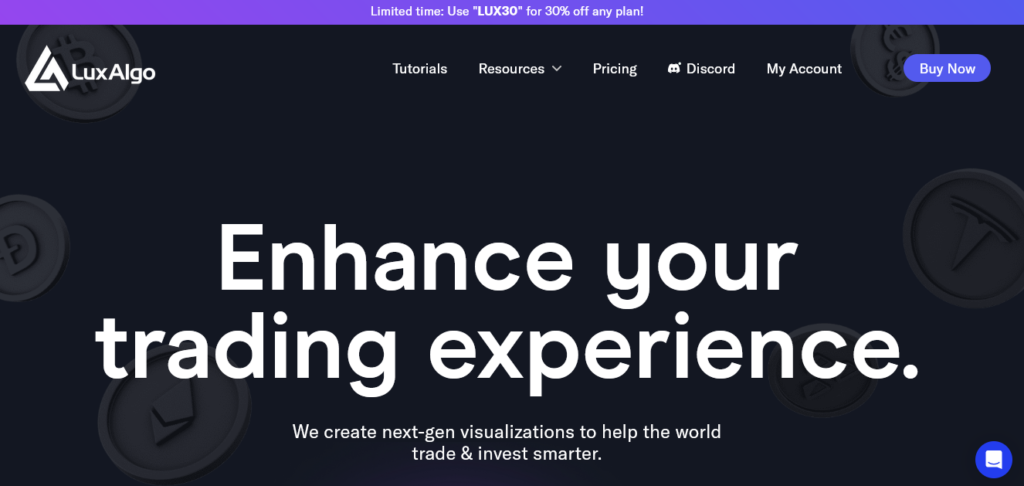 The LuxAlgo premium suite is a product created by the LuxAlgo company. It is a collection of tools for technical analysis of the forex market.
It has 3 fundamental indicators with several features to help traders optimize their expertise.
When taken apart, you'll find several features, up to 20+, designed to give traders real-time alerts and signals and help with improved decision-making.
As of this writing, over one hundred thousand users have joined the company discord community, and thousands of others use the premium suite.
Features of Lux Algo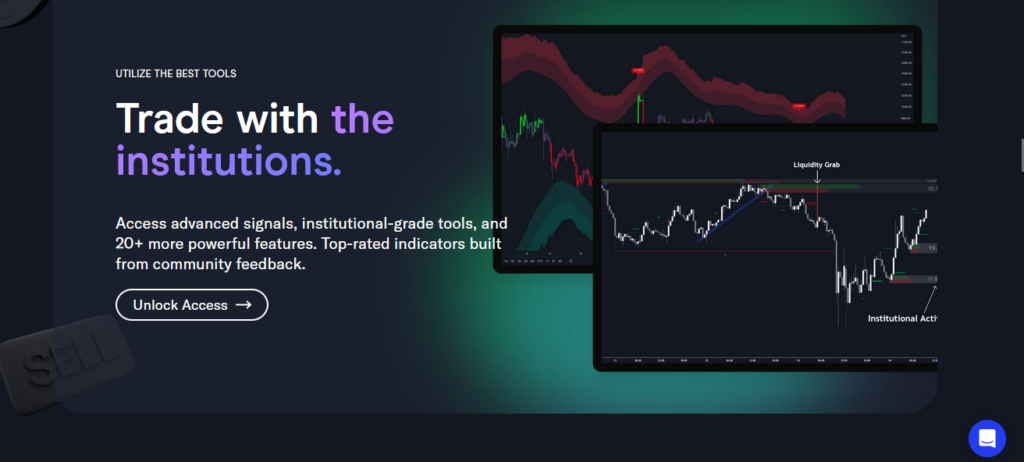 The LuxAlgo premium suite visualization capabilities and proprietary indicators give it an edge over competitors.
It creates a unique visualization experience for traders using the Tradingview platform.
Let's quickly review some popular features of the LuxAlgo premium suite I encountered while researching the platform.
Institutional Grade Tool
LuxAlgo premium suite features 20+ analytical tools to help traders make profitable market decisions. The suite capabilities are broken into three categories.
LuxAlgo signals and overlays
The signaling toolkit is the main feature of the LuxAlgo premium suit. It features about seven tools that offer several signal modes and indicator overlays that help traders optimize their trading decision.
Some tools in the kit include Signal Modes, Signal Settings, TP/SL Points, Indicators Overlay, Candle Colouring, Lux Dashboard, LuxAlgo Signals & Overlays Alerts.
LuxAlgo price action Concepts
The LuxAlgo Price action concepts tools are designed to analyze and return indications related to price patterns.
It works to execute the intelligent money concept and trendlines. Included in the kit is the Market Structure, Order Blocks, Liquidity Concepts, Imbalance Concepts, Zones, and Previous Highs/Lows
LuxAlgo Oscillators
The LuxAlgo premium suite provides five oscillators to help traders gauge price momentum. Each tool in the collection provides unique capabilities to the trader to help maximize their ability to make accurate decisions.
Here is a list of indicators included in the LuxAlgo suite: Ultimate Stochastic, Ultimate MACD, Ultimate RSI, Advanced, and Pivot Oscillator
Each category helps traders successfully conduct technical analysis within the Tradingview interface.
Trading Alerts
LuxAlgo premium suite allows traders to create diverse alerts triggered when certain prescribed conditions are met.
The trader receives notifications via sms, pop-up messages, or other means. Besides the alerts set by traders, the discord community also gives users and traders access to an unlimited flow of trading signals and alerts.
How does it work?
The first step is to sign up for a subscription plan. The platform offers three plans: monthly, quarterly, or yearly plans. While signing up for a plan, provide your Tradingview username.
If your sign-up goes through, you'll receive a mail containing a link to access the LuxAlgo premium suites.
You'll have instant access to LuxAlgo from within the TradingView interface. The tools and software are in the invite-only menu of your Tradingview platform.
Also, as soon as you complete your luxAlgo sign-up, LuxAlgo sends you an invite to join the LuxAlgo premium discord community. The community is exclusively for traders using the LuxAlgo premium tools.
How much does it cost?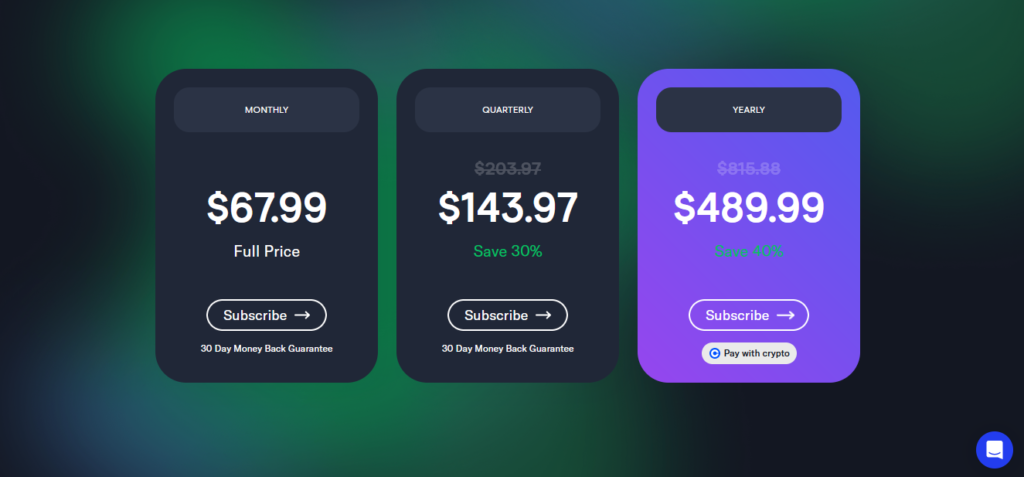 LuxAlgo operates the subscription model. Traders can choose from monthly, quarterly, or yearly plans. The platform accepts payment through bank transfer and Paypal.
Monthly Plan
The monthly plan cost $67.99. It grants you instant unrestricted access to all the tools and features of the LuxAlgo Advanced TradingView Tools + Bots.
Quarterly Plan
The quarterly plan cost is billed every three months. This plan cost $ 143.97 instead of the standard three-month cost of $203.97, which is 30% less. It also comes with a 30-day money-back guarantee
Yearly Plan
The yearly bill is billed per annum at $489.99 instead of $815.88. That's about a 40% discount over the standard monthly billing. Interestingly, subscribers to the yearly plan can pay in crypto. However, there is no inclusion of a money-back guarantee.
What do you get when you pay?
Advanced TradingView Tools + Bots.
Premium Discord Group
Signal settings optimization experience
24/7 user Support and customer service
Plus, some other benefits
Available discount
Users only get some discount on their purchase if they buy the quarterly or yearly plan. The quarterly plan gives users up to 30%, and opting for the yearly plan cuts your cost by 40%.
LuxAlgo also includes a limited-time coupon code for the first payment. Using the LUX30 code gives users a 30% discount on any of the three plans. However, the company bills subsequent payments at the standard rate.
Refund Policy
Users have 30 days to try the product and decide if they'll like a refund or want to keep it. However, specific terms and conditions nullify a refund. Once the billing goes through for any month after the trial period, you don't get a refund. Users should cancel ahead of a billing period.
Free-trial
LuxAlgo comes with a 30 days trial period. After the trial period, you may not be eligible for a refund.
Student Results
Various users have had mixed feelings over the actual benefits or values of LuxAlgo. While the product is reputed as well developed and compelling, users have recorded a spectrum of good and not-so-good experiences.
For example, Neils Hammer from quora thinks the indicators are the best. Although he has mixed feelings, they work well for him.

Hrushikesh Joshi also thinks LuxAlgo indicators are the best

Cody Moore Also thinks LuxAlgo helps a lot

Josus Gonzalez agrees that the platform works well for him and helps him improve his strategies.

Malik Rajan on the other hand thinks the indicators didn't deliver to his expectation and he complained about the refund policy.
However, LuxAlgo refunds police clearly state that you may not get a refund after the 30 days period is over. Cancellation of subscription is only valid before billing.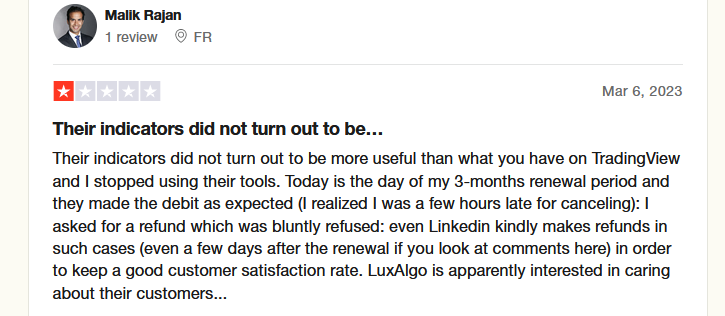 John Dionne from Quora also complained about the refund policy of LuxAlgo

Perry Portana has a mixed experience with the platform. While he enjoys the benefits of the indicators, he thinks the customer service is not good enough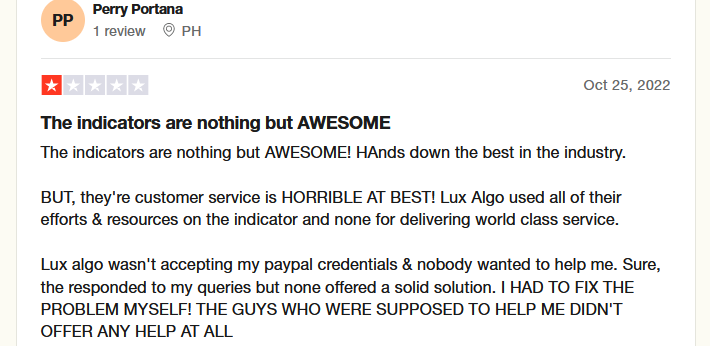 Pros of Lux Algo
Robust toolkit with over 20+ features and functions
Vast indicators to monitor data points across different markets
Function across different timeframes
Users can create optimized personal strategies
Discord group with over 100000 traders and constant signals
Constant free updates to all tools
Access to free tutorials on every aspect of trading.
Vast toolkit for technical analysis
Efficient signal and alert functions
Compatible with ios and android through the Tradingview interface
Cons of Lux Algo
Little to no customer support
Not-so-good AI and automation
Only Compatible with Tradingview
Are the signals from Lux Algo reliable?
Yes. If you're in doubt, you can take advantage of the 30-day trial period to see how the suite aligns with your trading strategies.
What I've realised in my review of several algo trading suits, indicators, and scripts is that the result you get from each tool would depend on your trading styles and strategies.
The best way to determine if it works for you is to use the free versions first and then proceed to full ownership.
However, you need not worry about the effectiveness of LuxAlgo, widespread proof exists to back the reliability of the signals.
Major Red flags
During my research into the LuxAlgo platform and tools, I found several positive reviews and reports affirming the tool's value.
However, I have observed some clear red flags that the company needs to attend to as fast as possible to reinforce users' confidence in the product. Below are some of the red flags.
Unknown funders and Team
LuxAlgo founder or team members are grossly unknown. The only people identified with the product are Sean Mark and Alex Pierrefeu. It either indicates a lack of confidence in their product or shady moves.
Inconsistent customer service
Over eighty percent of the negative reviews LuxAlgo has received points toward poor customer service experience. When there's a breakdown in support and customer service, something could be fundamentally wrong.
Inflexible refund policy
A rigid money policy destroys a company's reputation. If customers are dissatisfied with a product or service, the company should be flexible enough to refund the money paid within a reasonable time frame.
Holding onto customers' money even after they cancel their subscription is a big red flag.
Is LuxAgo A Scam?
Reviews on Trustpilot have a lot of users crying foul over the LuxAlgo premium suite's lack of novelty.
Some students claim they got less than they expected, and some claim they had a poor experience with customer care.
Going through the reviews, you'll notice how the representative LuxAlgo took the time to respond to the comments as effectively as possible.
It means the company is willing to take responsibility for any shortcomings. From my findings, The product is not a scam. It's not just maximizing its potential.
Lux Algo vs. Ultra Algo
Trading with Algo gives you a strategic advantage over most other traders, especially in decision-making and backtesting.
However, the Algo you choose would determine how well you'll perform. Let's stack LuxAlgo against a comparative equal and see how it does.
Trading Automation
LuxAlgo does not come with automated trading capabilities, but Ultra Algo leverages AI and bots to deliver accurate buy/sell moves.
Mobile Compatibility
LuxAlgo and Ultra Algo work well with mobile devices due to the Tradingview integration.
Platforms
LuxAlgo works exclusively on Tradingview. The MT5 integration is still in its test phase, and the user experience has been below par.
Ultra Algo, however, works on Tradingview and up to four other platforms, including Interactive Brokers, IG, TD Ameritrade, and TradeStation,
Customer service
LuxAlgo needs to improve its user support and customer service. Ultra Algo customer service enjoys positive reviews on Trustpilot and other review platforms.
Signals
Both platforms deliver accurate signals across all asset classes
Discord Community
LuxAlgo has a more robust Discord community than Ultra Algo. LuxAlgo boasts over 100000 users on its discord community.
Price
Lux Algo comes in at $67.99, approximately $68 per month.
Ultra Algo comes in at a flat rate of $67 per month. Besides the numbers, the benefits of Ultra Algo at that price far outweigh what you get from LuxAlgo.
AI integration
LuxAlgo only uses AI for data analysis. Ultra Algo leverages AI for automated trading and other critical trading functions.
Learning curve
Both platforms have steep learning curves. However, there are robust programs to help students master the use of the tools.
Updates
Users of both platforms enjoy regular updates at no cost.
Is it recommended?
LuxAlgo is better than some users have painted it to be. The only thing you need to remember is that the LuxAlgo Premium suit differs from your trading expertise. It's only designed to enhance your technical analysis and decision-making skills.
Also, The tool could be better for trading automation. Its core capability is to provide signals and alter to traders.
The decision to choose or not choose LuxAlgo boils down to what you want to achieve with it. While the product may have several substantial benefits, it has limitations, and the company did well to mention it on its sales page.
Do I recommend LuxAlgo? Yes. However, you'll benefit more from the tool as a beginner. If your technical analysis skills are well-developed, you may want to opt for more advanced tools like Ultra Algo.
Also, it's best to start with the free plan of LuxAlgo Premium tools to get an idea of what to expect before you delve fully into the paid experience.
Conclusion
Algorithmic trading is not a replacement for trading expertise. It only enhances your skills and decision-making ability.
Therefore picking a great tool doesn't mean you're retiring permanently from the trading scene. You'll still need to engage in analysis.
In this review, we've provided you with a brisk highlight of hours of research into the Lux Algo platform and its products. It's time to decide if it's worth your money or not.
Related