Welcome to a definitive review of Terri Ijeoma's Trading and Travel Course.
In this review, you'll find information about
Terri Ijeoma's competence
Her background
Her career as a trader
Trade and Travel Course
What students have to say
I've spent immense hours researching and gathering everything I can find about Terri's course.
I aim to give you detailed information about her program. It may likely stop you from investing or inspire you to go ahead.
Whatever your decision, I'll only ask you to read to the end before you make your choice.
With that said, let's jump right in.
What is Trade and Travel Course all about?
Terri Ijeoma's Trade and Travel Course promise to teach students how to trade in the stock market. The focus is primarily on day trading.
The promise is so bold that one wonders if it's realistic.
You'll often find the sales page saying the trade and travel program would teach students how to make up to a thousand dollars daily from the stock market. Can this be true?
Well, we'll soon find out. That's why we're having a review of the course.
Purchasing the trade and travel course grants you access to about 100 hours of stock trading class, group coaching sessions, curated tips, Terri's watch list, and a private trading community.
How well the program delivers on its promise is still a mystery. However, each student's abilities and learning competence still determine what they'll achieve in the market.
Who is it for?
The Trade and Travel Course is not limited to a group or class of traders. Anyone interested in learning how to trade or wishing to improve their trading skills will learn something new from the course. Its two-part offer makes sure everyone has something to gain from the course.
Some categories of traders that may benefit from the course include:
Individuals trading solo
Solo traders would find the hundred hours of trading videos valuable. It covers everything from the basics to some strategic trading topics, such as options and swing trading. Access to the private community is also a great way to expand your network and learn from other traders worldwide.
Individuals Trading for Large Institutions
The VIP plan, in particular, is a big plus for institutional traders. It offers some unique strategies you may need to become more familiar with.
The Globex strategy may not be something you're used to already. And if you're familiar with the strategies, Terri promises traders access to a list of stocks she's watching. This could come in handy when you're making trading decisions.
Newbie stock traders
Absolute beginners trying to get into day trading can skip the trial-and-error phase by joining the Trade and Travel Course. Newbies taking the course can expect to acquire flowing knowledge.
How to Set Up a Trading Account
How to develop and implement your trading strategies
Trading simulation
Planning an exit strategy
Setting income goals
Achieving trading income goals
Who is Teri Ijeoma?
Terri Ijeoma is the founder of the Trade and Travel program.
She made a name for herself after she claimed to have hatched a strategy that helped her earn as much as one thousand dollars from her day trading in the stock market.
How often she made such an amount is unknown to anyone. But her website says. She's been trading stocks for over a decade now.
Before going full-time into stock trading, she was an education expert. She also worked for nonprofits at one point.
Combining her success as a trader with her experience as a teacher, Terri carved a niche for herself in the trading education space.
She's now a recognized trainer, a course creator, and an award-winning entrepreneur.
Little is known about her recent achievements as a trader. The bulk of her success stories now comes from her new role as a trainer. Much of her marketing effort now focuses on promoting her trade and travel programs.
Can Terri Ijeoma Be trusted?
As a person, Terri has done well for herself. She holds a bachelor's degree in management from the Massachusetts Institute of Technology (MIT).
She also holds a master's degree in media and communications from Dallas theological seminary.
She ranked number one in teachable, and in 2018 she was an entrepreneur of the year according to the national black MBA association.
In addition, she has other track records to validate her exceptional competence.
As a person, Terri has a lot of qualities and qualifications that place her above flaws. Her credentials prove she's not out to take advantage of anybody.
However, can you trust her to deliver on her promise?
To answer that question, we have to look beyond her personality.
There's a need to look deeply at the results of her past students and the content of her program to answer that effectively. Of course, I've done that for you.
Later in this review, I'll share what her past students are saying, but right now, let's look at the content of her course to see if it's worth the trust.
How Terri Ijeoma Promises to Make You Rich
You'll only make money through the Trade and Travel Course if you practice what you learn. 
Teri will not perform or provide any unique trick to put extra profit in your hand.
She only promises to show you the strategies that made her rich, and she expects you to try them and see if they'll make you rich.
In the Q&A section of her sales page, she made it clear that she's not going to suggest any stock or option for you to buy. That's because she needs to be an accredited broker.
So if you're wondering if you'll make money through her course, you'll only find out if you do as you're told in the course.
What is in the course?
Terri's Trade and Travel Course are divided into two parts. Each part is called a track. There's the standard track and the VIP track. Each part of the course runs for four weeks.
What it means is that you get an eight-week course if you sign up for the VIP track. Alright, What's included in the two tracks?
Trade and Travel Course:
The regular student gets four weeks of training, covering everything there is to know about day trading and swing trading.
The reward and risk calculator
You are given access to the tool that helps you validate the trade that's ideal for your strategy.
Coaching Classes
There's also an offer of up to 48 hours of group coaching calls per student. The call is an avenue to ask questions and gain clarity about difficulties you encounter during the course.
Stock Watchlist
Terri promises students access to the constant supply of stocks she's watching. Although how the list runs are subject to her decisions, the promise is to give you everything you need to make a thousand dollars.
In addition to the regular benefits, VIP students also get the following exclusive benefits.
Weekly coaching calls
The VIP students have a group call every week, unlike the 48-hour call of the regular students.
Short-selling trading
You gain access to excellent training on how to short the stock market.
Options trading strategies
The training shows VIP students how to profit from the risky options market.
VIP students also learn GAP trading strategies and Globex trading strategies.
Private Facebook group
The VIP students also gain access to an exclusive Facebook group available only to Terri's subscribers.
Pros of Trade and Travel Course
hours of trading classes
Group coaching calls
Access to trading resources and tips
Special trading strategies
Access to the trading community (for VIP students)
self-paid learning experience
Lifetime Access to the courses
Cons of Trade and Travel Course
Sky-high prices
No Refunds
Generic knowledge at a high price
Price of Trade and Travel Course
Each trade and travel course track comes at a slightly different price.
The standard track is priced at $2500, and it offers training and support that helps students make money mainly from the upmarket.
The VIP track is priced at $5000, and it offers every benefit that comes with the standard track, plus training on how to make money on the down market.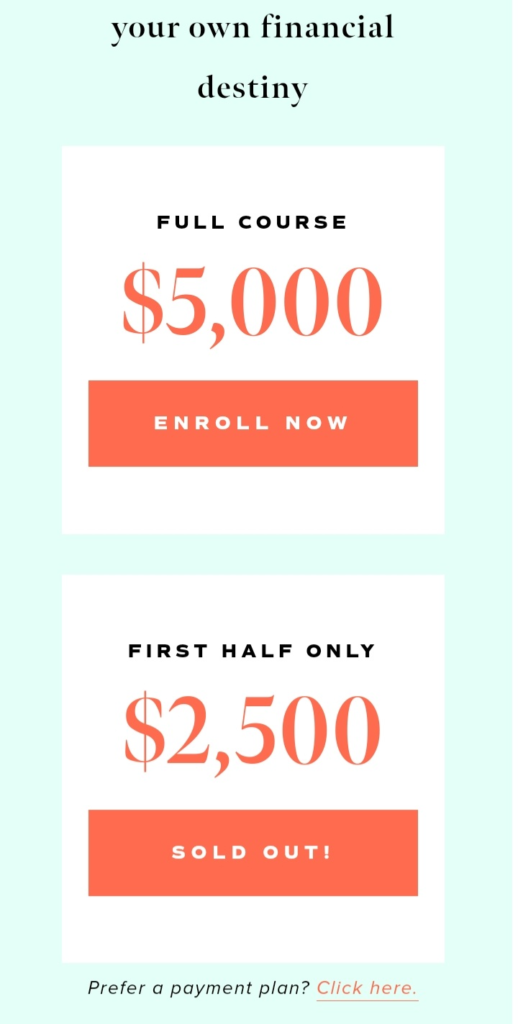 How is the VIP track different from the regular track?
There are a few differences between the two tracks. They both share the same learning experience, the same instructor, the same platforms, etc.
The only observable difference between the two tracks is that you learn how to profit from more risky trades in the VIP track. You also gain access to more group coaching calls in the VIP plan than in the standard plan. Also, you learn how to implement more brutal trading strategies. Access to VIP Facebook community.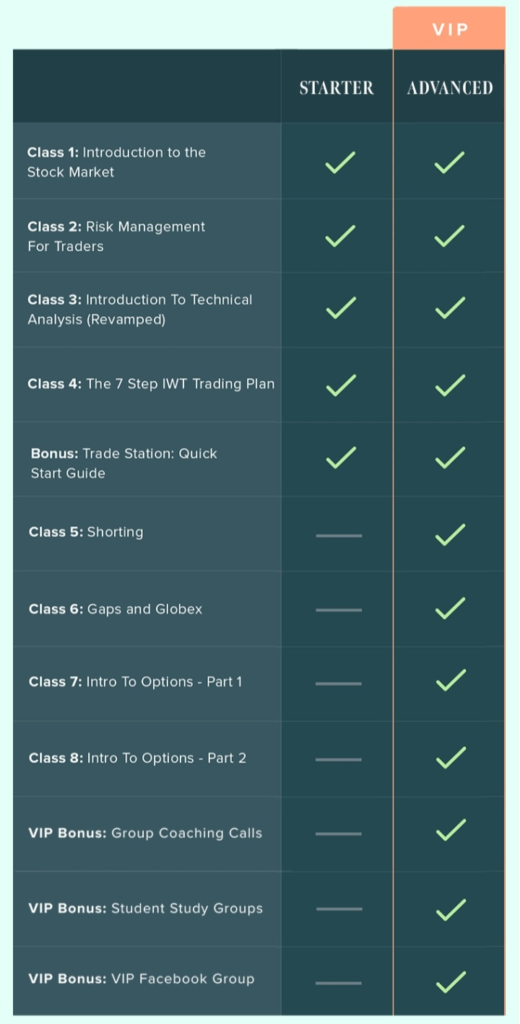 Course duration:
The sales page promises lifetime access to the course. However, enrollment only opens for a limited period.
The course is self-paced. Meaning you take it at your convenience. The Standard Plan is expected to last 4 weeks, ideally. And the VIP plan will last for 8 weeks.
That's because the VIP combines the standard plan and some extras. Other variables and pieces of information are packed into the program. 
Student Reviews
Terri has made some bold promises in her Trade and Travel Course. Here are some promises you'll find in her marketing materials:
Early retirement for her students
Financial freedom
Earn more than your current income.
Quit your job without regrets.
She launched her course in 2017, and her website says she's had over 30000 students. Six years is enough to validate her claims to her students. 
Let's see what students who've passed Terri's course have to say about it.
Gerald Roundtree, who took the course in 2022, thinks the system is not worth it. He claims it's not working for him.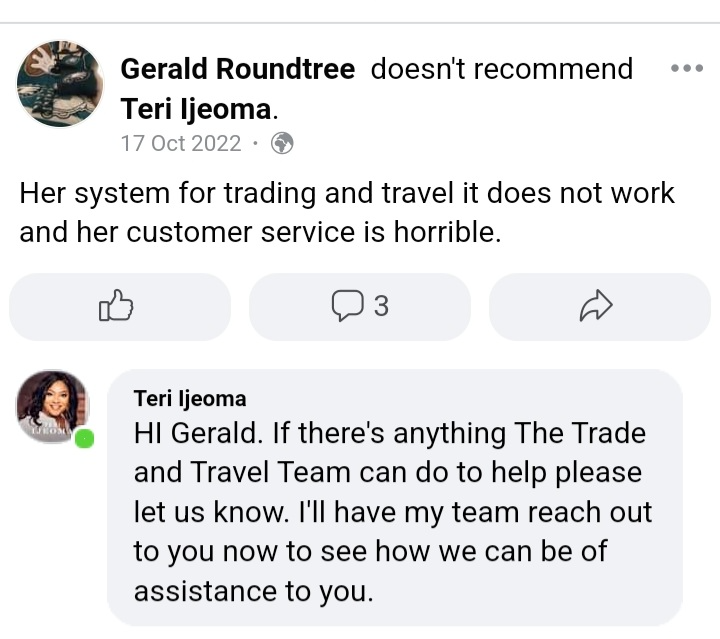 The further conversation between Gerald and Terri shows he is grossly dissatisfied. While Terri and her customer service tried to fix the problem, the student seemed very dissatisfied with the outcome. The course.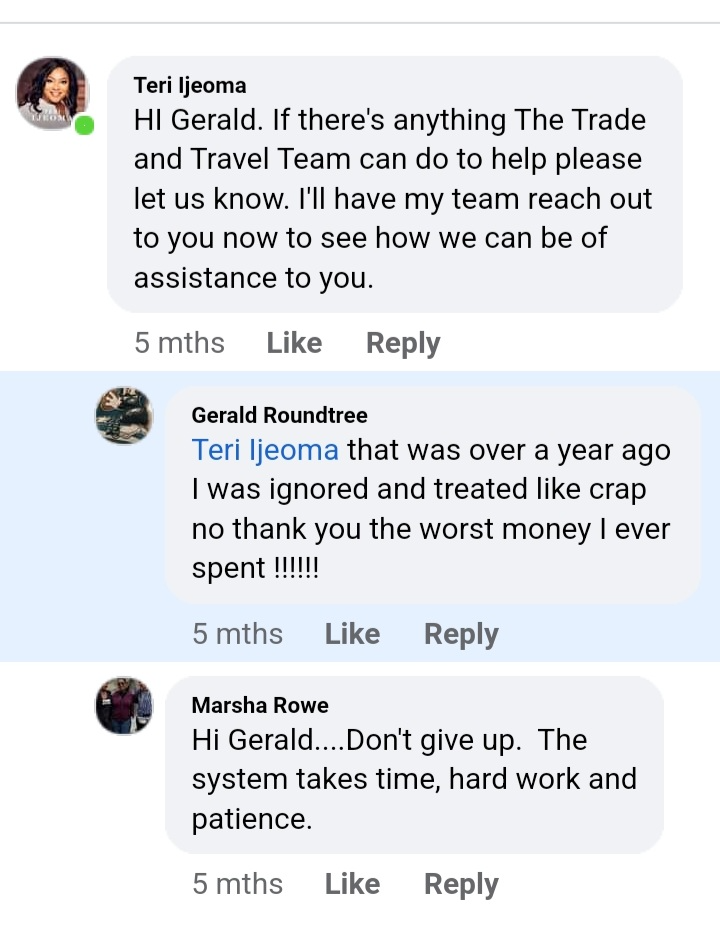 An old course student, Michelle Escoe, thinks the course is great.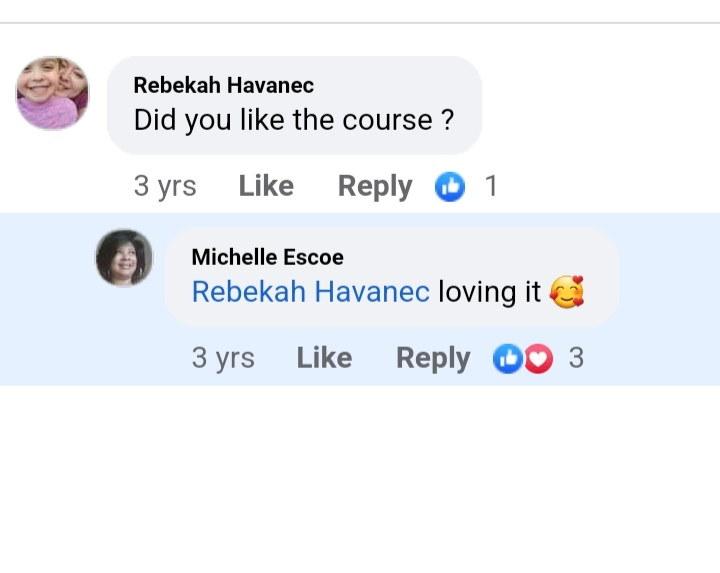 Angela from the course sales page says investing in the paid-for itself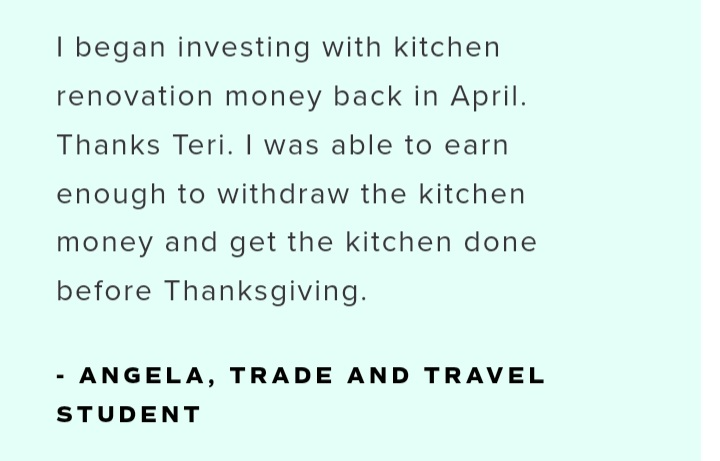 Athena, Another student from the sales page, says the course thought her a life-long skills.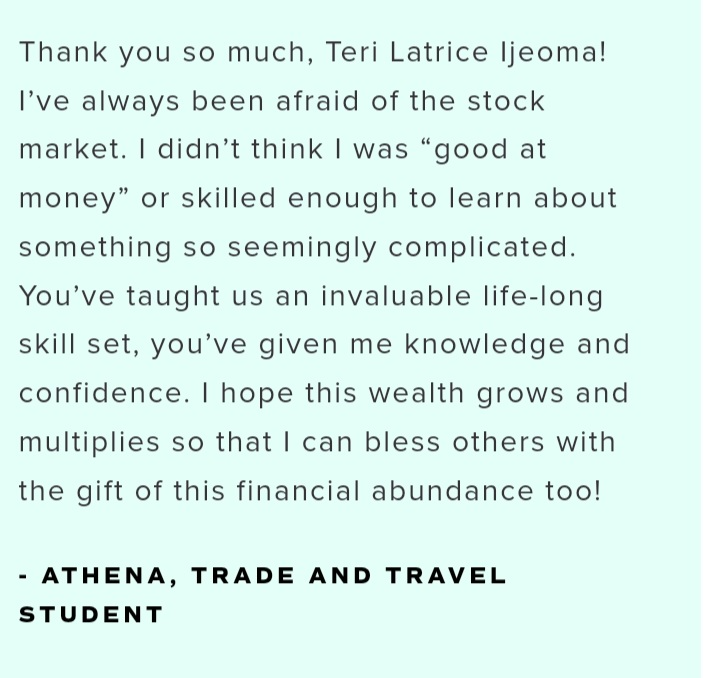 Unfortunately, you'll need help finding student reviews of her program on her page or a third-party page such as Reddit, Quora, or Trustpilot. This raises a valid red flag.
Most of the reviews I found on her Facebook page were over 3 years old, and the more recent ones are pretty negative.
What other reviewers have said
While researching Terri's course, I found other websites where people had shared their concerns about her course. It's a mixed review.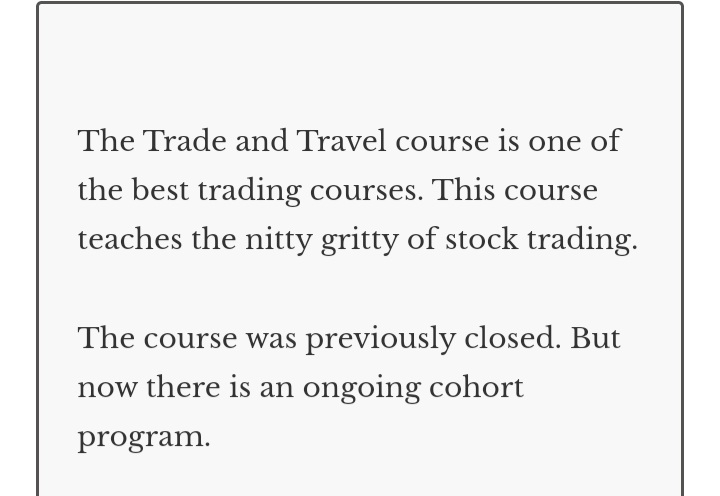 He believes Terri's course has some value to offer.
Here's what Moneybliss has to say.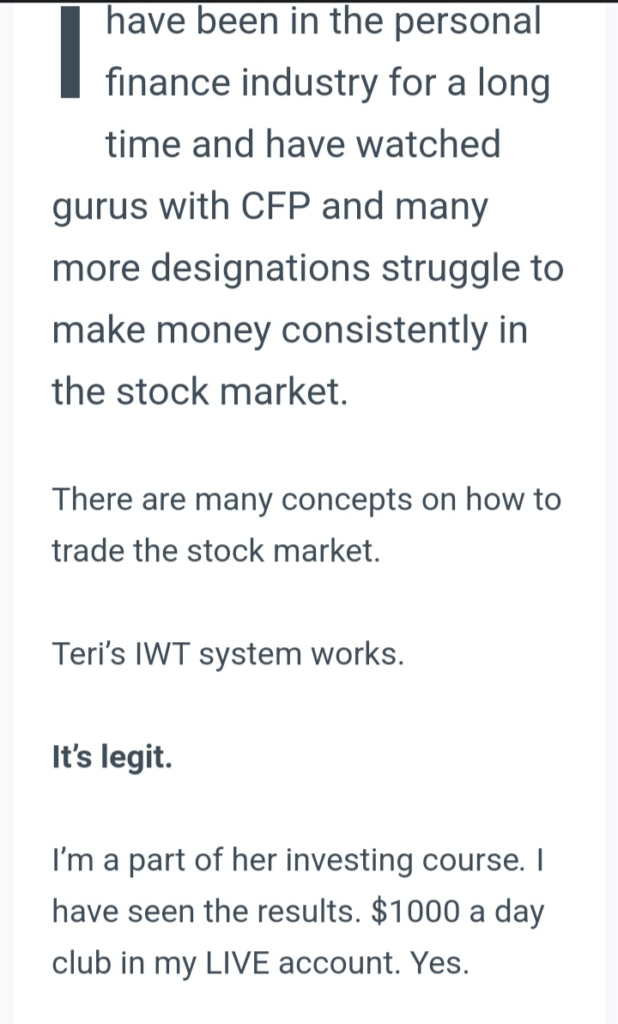 He believes it works and has been a part of the program.
Affiliate doctor has this to say: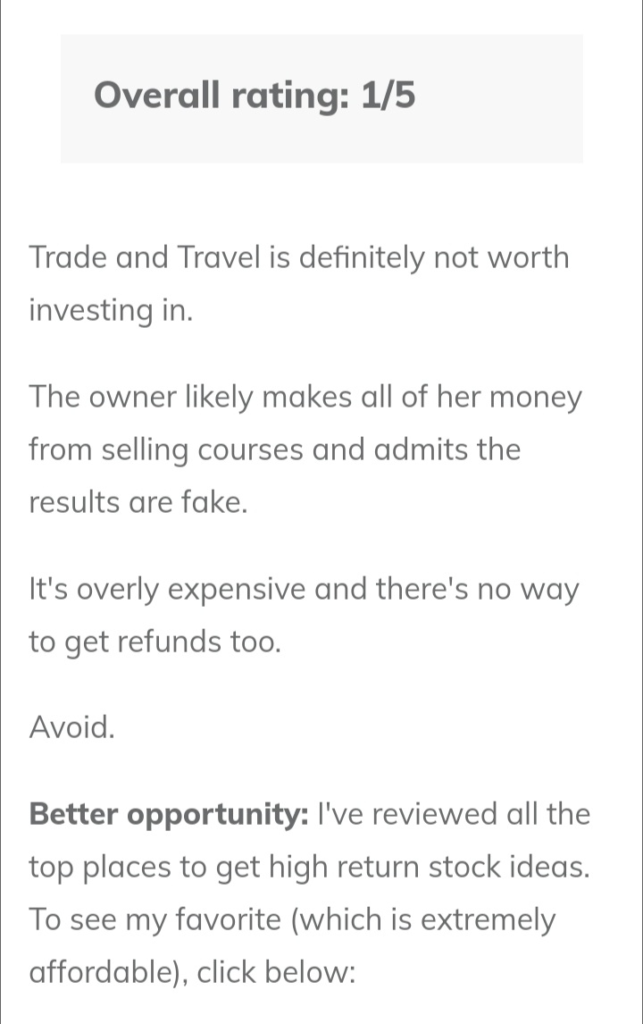 Affiliatedoctor does not recommend Trade and Travel; he believes it is too expensive and not worth the kind of money it asks for.
Is Invest with Teri a scam?
Going by the definition of a scam, I won't conclude that Terri's Trade and Travel Course is a scam.
A scam means giving value without getting any or an equal measure of value in return. 
If you pay for Terri's course, you'll receive everything you paid for:
The course
The Community 
The coaching
Expert Support
Resources
Strategies, etc.
The only point of the question is whether you'll keep the promise she made to you.
How you'll end up as a trader is determined more by your competence than whatever Terri has to share.
As a trader, I won't invest that kind of money in a course. I'd instead take a more affordable course and spend that money trading the market.
If Terri offers special trading tools, proprietary analytics, or signals, it might make a difference.  However, at its current offering, the value is too outrageous. 
If you can afford it, the course is fine, especially the part where you can increase your network through the community.
Conclusion
Terri's course is a giant step for anyone investing in it. She has made bold claims and done it in such a way that you can't go back on your decision to trust her. Once you pay for the course, you're in; there's no getting out unless you want to forfeit your payment.
And to assume that the result you'll get from taking her course is subject to the amount of work you put into learning and practicing what you've been taught, trying out her class is a good idea.
However, you must be willing to part with $5000 to validate her claims. Or, at best, $2500 to see if it works for you. 
Related Articles